Caruthers Lake Trail (Dempsey Basin)
Quick Info:
Nearest Town: 

Deerlodge

                    Yearly Closure?:

 None
Trail Rating: 

Class 

3.5 

                         

Length:  

Approx: 

6 Miles (from Trailhead)
High-Clearance Required: 

Yes

            Wide/Long Vehicles: 

No major concerns
Type Trail: 

Same in/out
This is, in my humble opinion, one of the best off-road trails in Montana. It is a reasonably tough 4x4 trail and travels to and through some extremely beautiful and wild country. The Dempsey Basin is simply amazing.
This is a Class 3-Plus Trail. It is only about 6 miles long but it can seem like it is longer. This is not a quick trip. It has some bigger rocks, a variety of water crossings and a couple of steep hills on loose gravel/rock. The scenery is simply amazing. In other words: GREAT FUN!
The Caruthers Lake Trail
This trail is easily accessed from Deer Lodge (Via the I-90 Frontage to Sage Lane and then Dempsey Lake Road), Anaconda (Via Racetrack Road which turns into Dempsey Lake Road) or the Racetrack exit of I-90. A good Starting point is the intersection of Dempsey Lake Road with Perkins Road. This spot is MAP/GPS coordinates: 46°17'26.7"N 112°49'28.9"W OR 46.290738, -112.824681
Click **HERE** for a link to this location on Google Maps
Where we trun off Perkins Road
From this intersection, go about 650 feet into Perkins Road. Then take the next right, up the hill. This is Dempsey Creek Road or Prison Road trail 8507. The trail-head is about 7.5 miles from this point. Remember, for the first 5.6 miles, you will be on Montana State Prison property and should not stop unless it is an emergency.
The trail-head parking area is large and suitable for trailers.
From the trail-head, there are not many side roads to be concerned with. I suggest staying on the main trail. It is easy to see. The side roads that are there are mostly small bypasses and many are blocked with down trees. they all come right back to the main trail.
About 2.5 miles from the parking area, you will come to a short fork in the road, to the right, for Bohn Lake. It is a small but scenic spot when the water is high.
Bohn Lake
About 2.4 miles further you will come across the turnoff for the Elliot Lakes trail. It is just a few more miles to Caruthers Lake.
Note: The trails to Lower Elliot Lake and to Mountain Ben Lake, just past Caruthers Lake are, according to the Recreation Forester in the Butte Forest Service Office, designated as "<50" atv only".
COORDINATES:
The Trail-head/air-up-down area: 46°19'01.2"N 112°55'25.4"W or 46.317002, -112.923720 
For a Google Maps Pin of this location: *

*CLICK HERE**
Caruthers Lake: 46°19'58.4"N 113°00'26.5"W or 46.324748, -112.875610
For a Google Maps Pin of this location: 

**CLICK HERE**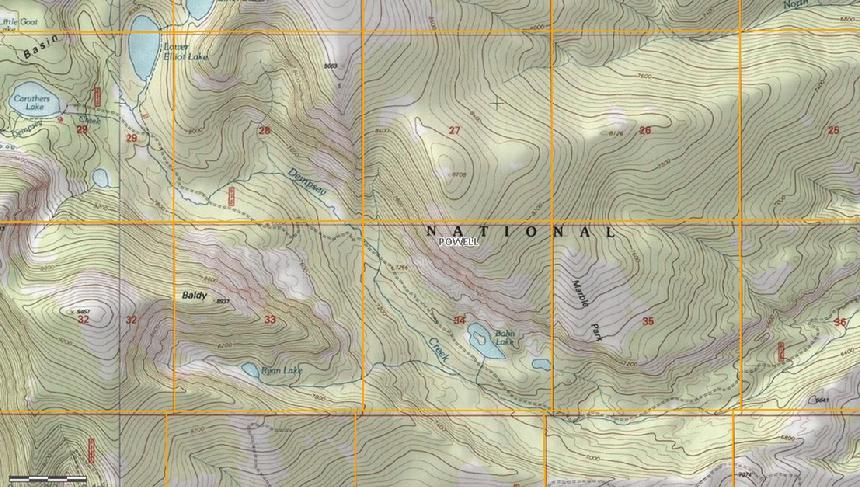 The Dempsey Basin
Photos by Joe Skaggs and Richard Hiltz
Trail Description By: Richard Hiltz
NOTE: We are simply describing a 4x4 route. We accept no responsibility for your decisions. 4x4 off-roading can be great fun but it can also be dangerous. People can get hurt and vehicles can get stuck and/or damaged. Trail conditions can, do, and will, change at any time. Road conditions may no longer be accurately reflected in this or any trail description. Only you can decide what trails or obstacles your experience and vehicle can safely navigate. When in doubt, turn around. Wheel Safe!!
Copyright Montana Overland & 4x4 Adventures 2015-2023