Quick info:
Nearest Town?:

Between Basin & Boulder

Open Dates?:

Year round
Class:

1 (Passinger car friendly)

Length?:

4.66 Miles from interstate
High-Clearance Required?:

No

Wide/Long Vehicles?:

No issues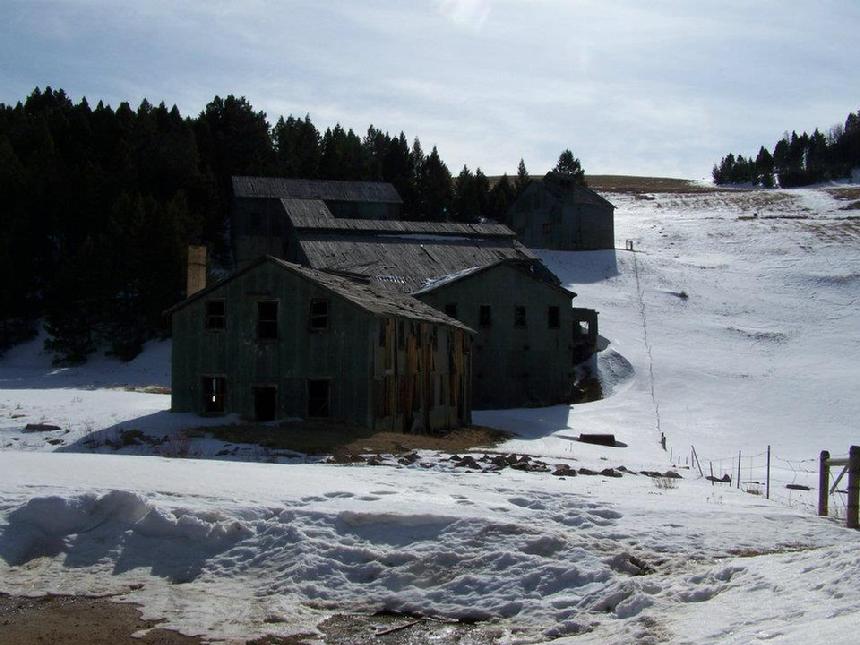 Comet Mill Building
The old mill at the Comet Mine. It was originally a silver mine but as is most often the case in this area, lead, zinc, copper, and gold were also produced. They even mined lime for the smelter's operations.
"The town is named for the Comet Mine, which was developed in 1883 by the Helena and Livingston Smelting and Reduction Company, based on a discovery made in 1874. Ore was transported to another mine in Wickes for processing. This operation shut down in 1897. Operations were revived in 1900 under the Montana Consolidated Copper Company; in 1927 the Basin Montana Tunnel Company took over the property and built a processing plant on the site for both this mine and the nearby Gray Eagle mine. The company was the largest producer of base metals in the state, outside of Butte, Montana, due to production at this mine. They employed 100 men. The operations of BMTC continued until 1941 when the mine was exhausted and operations were permanently halted.
The Comet mine was the richest mine in the district, producing $20 million in ore; ten times more than the Gray Eagle Mine, which produced over $2 million. Ores produced included lead, zinc, copper, silver, and gold."
Photo by Richard Hiltz
Interstate 15, exit 160, the High Ore Exit, is between Bouder and Basin Montana. At the exit, take the High Ore Road north. It will curve to the west and then back to the north again, within a few miles. It is, generally speaking, a well maintianed dirt road. From the Exit, just stay on the High Ore Road until you see the old town/mine buildings and mill. It is 4.66 miles from the exit to the parking area in the vacinity of the mill.
Please note. The mill is posted "no trespassing". The other buildings are on private property so please treat the area with care. Leave nothing but foot prints and take nothing but photos and memories.
NOTE: Look for a future discription (in the 4 Low section) of how to go over the mountain to the Boulder/Wickes Tunnel via Wickes Road.
NOTE: We are simply describing a 4x4 route. We accept no responsibility for your decisions. 4x4 off-roading can be great fun but it can also be dangerous. People can get hurt and vehicles can get stuck and/or damaged. Trail conditions can, do, and will, change at any time. Road conditions may no longer be accurately reflected in this or any trail description. Only you can decide what trails or obstacles your experience and vehicle can safely navigate. When in doubt, turn around. Wheel Safe!!
Copyright Montana Overland & 4x4 Adventures 2015-2023