Connects to: Beaverslide Trail
Links to Ringing Rocks Via Crossover Trail
Quick Info:
Nearest Town:

Whitehall or Boulder Yearly Closure?:

None
Trail Rating:

Class

3

Length:

(Whitetail rd to 4 Corners)
High-Clearance Required:

Yes

W

i

de/Long Vehicles:

Width issue (1 spot)
The Hay Canyon Trail is a fun little Class 3 trail. There is one Class 4 obstacle with a bypass. The trail runs from the Whitetail Road between Boulder and Whitehall Montana to the Northeastern corner of and into the Pipestone OHV Area.
While most 4x4 trails in this area are one way in...same way out, Hay Canyon offers somewhat of a loop. It should be noted that there is considerable pavement involved in completing the loop. This includes about 7 miles of Interstate and more paved secondary road. There is a route using all secondary roads as well but that takes you right through Whitehall. So, if your rig is not street legal, you may wish to skip the loop and treat it as a one way in/out trail. There is plenty of space for trailer parking on both ends of the trail at the entrance to Hay Canyon Trail @ Whitetail Road and at the Four-Corners Parking area in the Pipestone OHV Area.
Entrance points: You can enter or exit on either side. Both entrances offer parking for those who want or need to trailer their rig to the trail.
#1 - The Pony (and Hay) Canyon entrance from the Whitetail Road (MT HWY 399). The Whitetail is a mostly dirt road which runs between Boulder and Whitehall. The turn onto the Hay Canyon Trail is well marked with a sign. It is about 11.75 miles South of Boulder and about 13 miles North from the I90 / Whitehall Exit (#??). There is a nice parking area just inside the fence. It is a good air up/down point. It is on a small piece of BLM land is a great spot for leaving a tow vehicle and trailer. Please keep in mind that it is a SMALL piece of BLM and the next 1.5 miles on that road are private property...so be nice.
46°04'02.8"N 112°06'21.3"W or 46.067444, -112.105917 For A Google Maps Pin of this location: **CLICK HERE**
On The Whitetail Road Side.
2. Four Corners. The Pipestone OHV Recreation Area can be accessed from I90 exit #241. This is 7 miles west of the Whitehall Exit. On the north side of the Pipestone exit, follow the Delmo Lake Road 222 for about 3 1/2 miles until you see a parking area with public facilities on your right (south). This is known as 4 Corners and its a great place to leave a tow rig and trailer...and to air up/down. 45°56'45.8"N 112°16'31.0"W OR 45.946056, -112.275282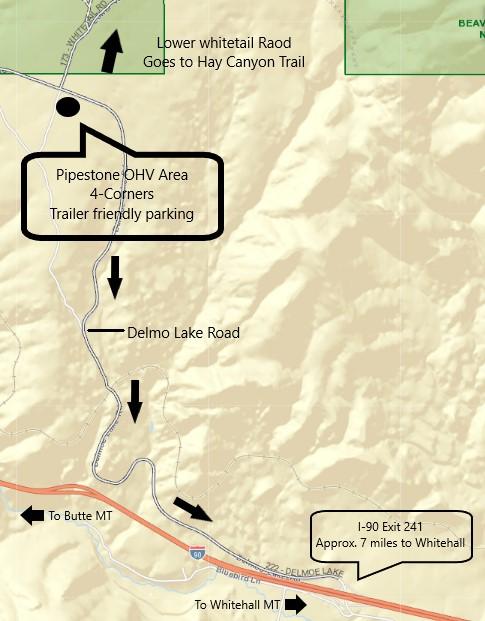 The Pipestone OHV side.
This spot changes every year. sometimes it gets a little harder and sometimes a little easier. However, it is ALWAYS fun and interesting. There is a bypass for those not equipped for or comfortable with this obstacle.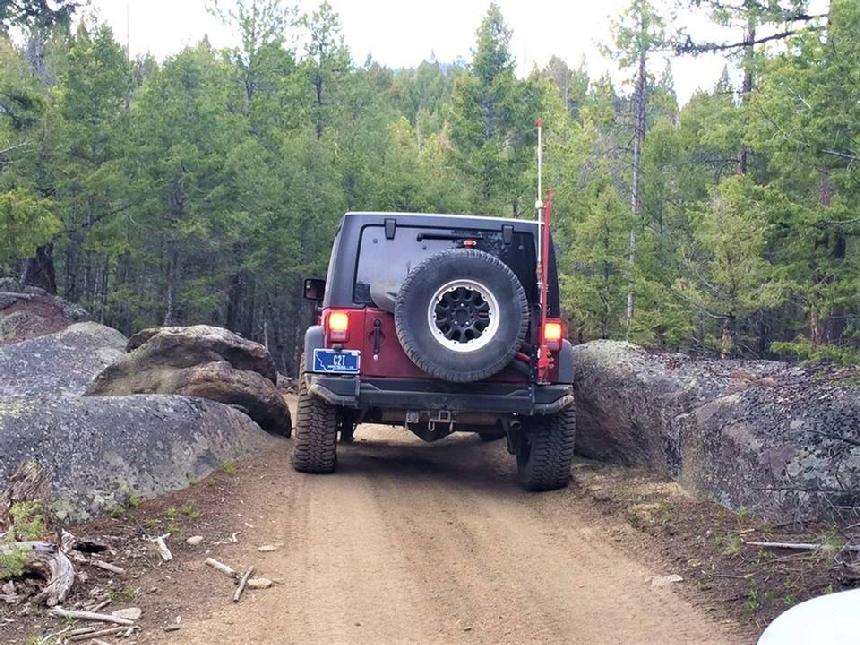 This is known as the Painted Rocks. Some full-size paint the rocks.
What you cannot see in this photo is that the road zigs and zags a little just the other side of these rocks. Especially when going the other direction, from that in the photo, it can make it a bit more interesting to get lined up for it in a Full-size or wide rig.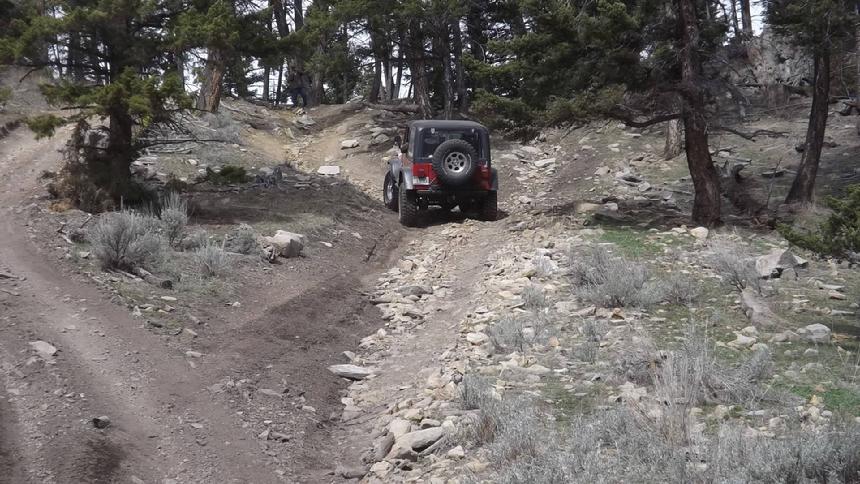 The 2nd interesting hill from the Whitetail Road side.
This hill can be quite challenging in the snow or just when it rains. Here is a hint. While the two outside lanes "look" easier, the center is generally the best route.
Trail Description by: Richard Hiltz
NOTE:

We are simply describing a 4x4 route. We accept no responsibility for your decisions.

4x4 off-roading can be great fun but it can also be dangerous. People can get hurt and vehicles can get stuck and/or damaged. Trail conditions can, do, and will, change at any time. Road conditions may no longer be accurately reflected in this or any trail description. Only you can decide what trails or obstacles your experience and vehicle can safely navigate. When in doubt, turn around. Wheel Safe!!
Copyright Montana Overland & 4x4 Adventures 2015-2023