ROCK CREEK TRAIL (LEADVILLE)
**Off Of Boulder River Road**
Quick Info:
Nearest Town?:

Basin/Butte/Deerlodge

Yearly Closure?:

Oct. 15 To Dec. 2
Trail Rating:
Class
3
Length?:

20.2 (most common loop)
High-Clearance Required?:

Yes

Wide/Long Vehicles?:

Caution (thin but doable)
This Is A Favorite Trail!!
This is the Rock Creek Trail in Jefferson County. I find it a fun trail because of the varied terrain together with some great scenery and Big Sky quality views. Because of an old mine around the half way mark, it is often referred to as the Leadville Trail. Just FYI, the Leadville Mine is an abandoned silver mine located at an elevation of 7,999 feet.
This is a Class 3 Trail during the summer months. Class 3: For novice and experienced drivers alike. This is the most fun four wheeling you can expect to have in a stock 4x4. Low range may be required often. Vehicle damage is a possibility, at this level and above. This trail is full-size friendly though rock rails (sliders) may be a good thing.
This is a loop trail so it can be run either direction and has multiple ways to access the trail. I will concentrate on the primary routes but it is a good area to explore a bit. Most options are on the northwestern part of the loop.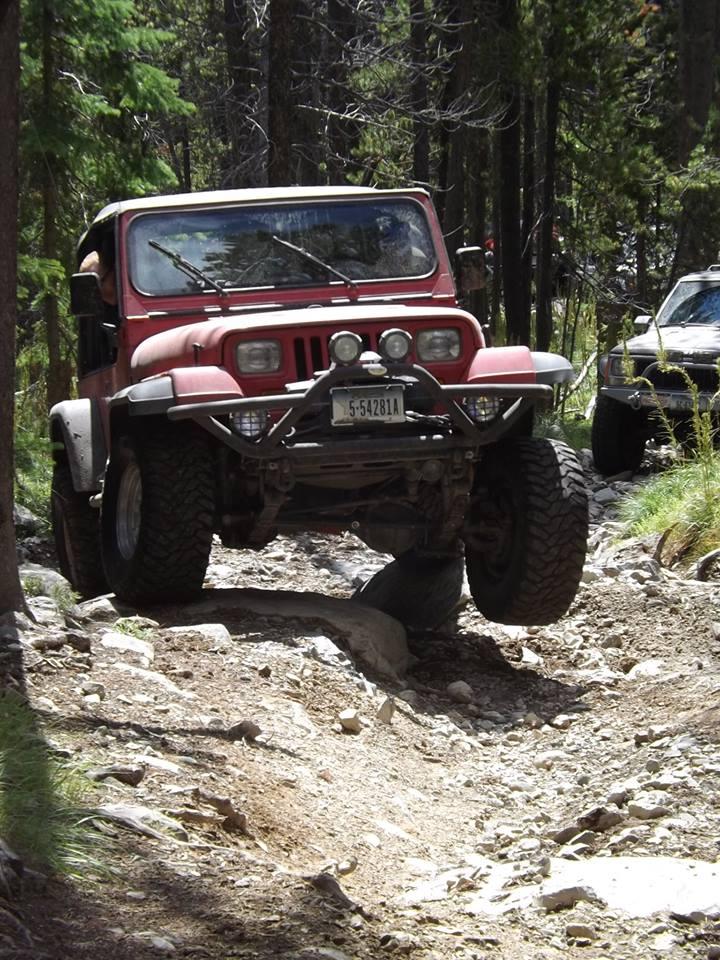 Daryl doing a little 3 wheeling.
Access to both sides of the Rock Creek Trail is from the Boulder River Road. From the I-15 side (between Basin and Elk Park) take the Bernice Exit #151. From the off ramp, take a right. you are now on the Boulder River Road. At about the 3 mile mark, there is a fork in the road. The Lowland Road (which goes to Elk Park) goes left and The Boulder River Road (where we want to go) heads of to the right.
The White House Campground is 3.5 miles from the fork at Lowland Road. Whitehouse Campground is a handy location to leave a trailer and has a public outhouse too. There are other spots suitable for trailers and airing up/down right by the trail too. Rock Creek Road is just another 1.5 past the Whitehouse Campground or about 8 miles from the I-15 exit.
There is a sign on the entrance (see photo above) and it heads to the northwest or to the right, from this direction. Across the road the Rock Creek entrance is the last good place for trailers and a good spot to air up/down if you have not already.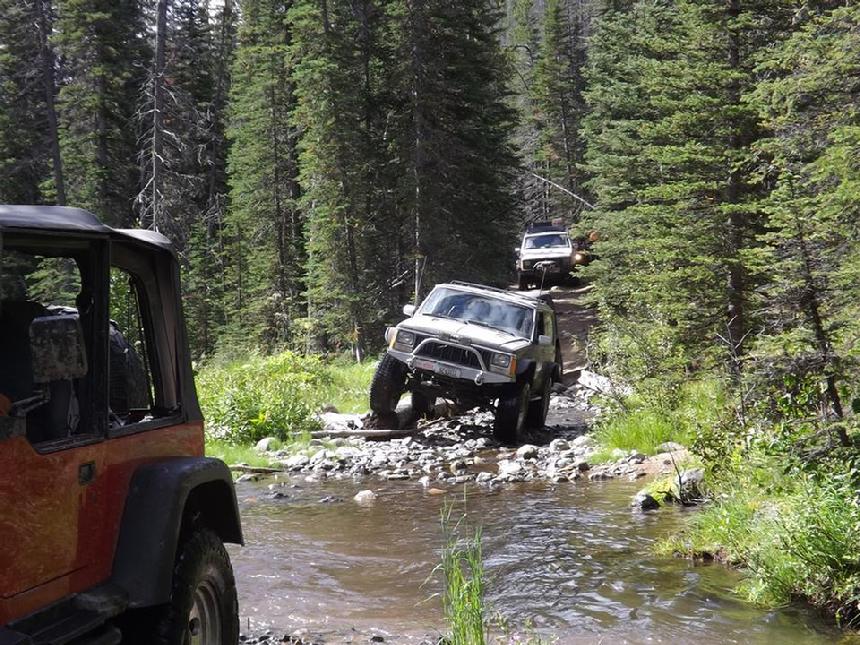 Mike crossing Rock Creek
The actual trail head is a few miles in. Once you cross the first creek (with the old walking bridge to the right) the real 4x4 trail begins. There are a few spots where the creek bed and the road become one. This can be a little confusing for a moment but look close and you will see the trail. About 1.3 miles past the first creek crossing (the one with the old foot bridge) you will come to a log bridge. The road will fork just after crossing this bridge. The road to the right is short but goes back to an old mine. Our trail goes to the left.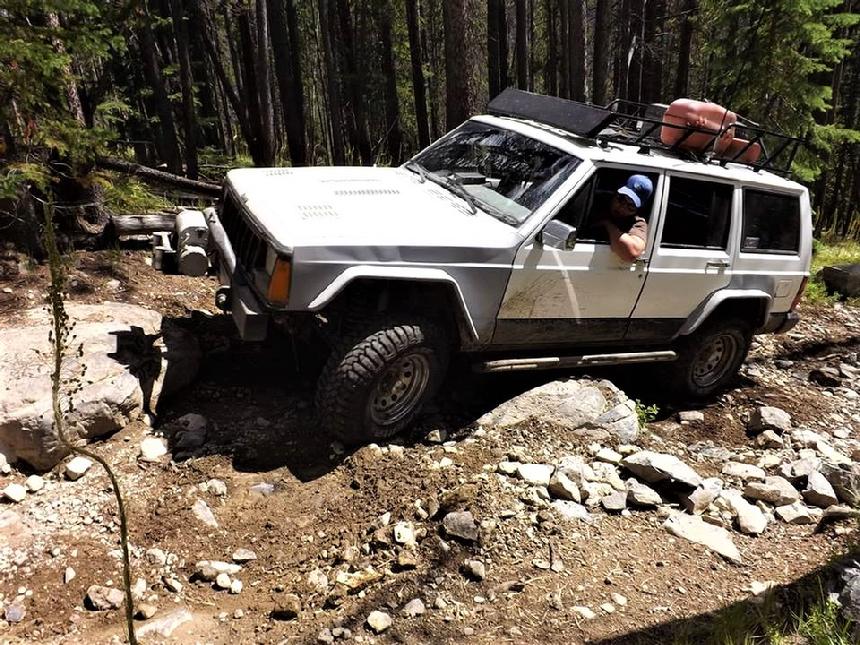 Brian is testing his rock rails
On the way to Leadville there are a couple of places with ATV trail heading off, mostly to the right. just stay the main pathway. When you get to the remains of a large cabin (it will be on your right) you made it to Leadville. The trail looks like it goes straight, that is NOT the case. The trail take a sharp left up the hill to the left.
Leadville is a nice place to stop and a common spot for lunch. If you walk up the trail that goes straight you will come to the remains if other cabins and a little farther to some mining equipment and what is left of some shafts and tunnels. (WARNING: some of this shafts are DEEP and filled with water. The walls on some are quite vertical and you, your kids or your pups are not getting out without some real trouble and assistance...make sure you are vigilant and keep an eye on the pups and kids.)
Leaving Leadville is via the steep road to the west, which is a left from the way we just came in and is right across from that first cabin. Pretty much impossible to get lost on this next section of road. This section provides some nice high country driving but no big obstacles (normally). there are some steep hills on loose rocks but there are some GREAT views. you are now traveling on the famous Continental Divide Trail, at least for a ways. as you break out of the trays for a while and into a long meadow, please sty the trail. The area is very wet and easily damaged during the wetter months. Do not take or make new bypasses to rocky or muddy spots...that's why you have 4 wheel drive.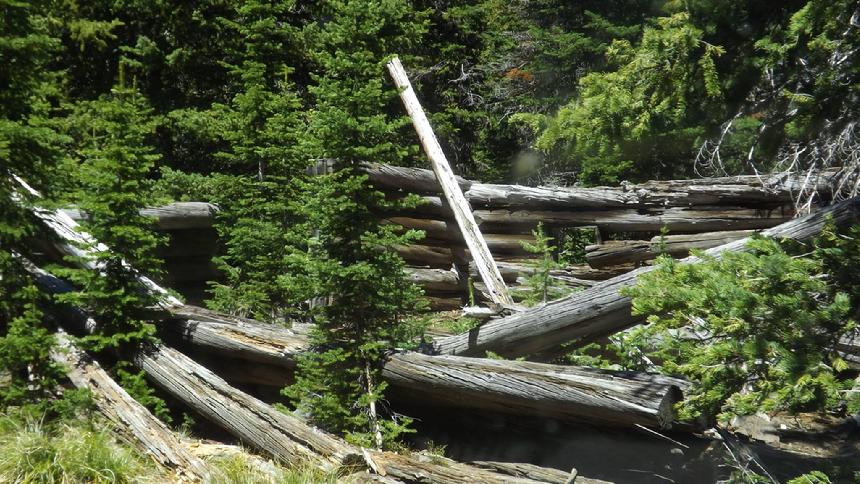 Leadville has several old cabins and some mining equipment to explore.
A bit of twisting though the trees and a couple more hills and you will eventually end up traveling a long open ridge. As you look to the north you will be able to see Deerlodge, Warm Springs and even Anaconda.
OK, the next part is just a little trickier to make sure you are on the correct route. No worries though, all the roads here will bring you back home. After running along the meadows on the long ridge, the road will take a sharp turn to the left and under a powerline. There is an intersections there. One road heads down the hill under the power line. This is Indian Creek Trail and is a nice ride. You should explore it sometime. Indian Creek does come out on the Boulder Rive Road several miles from the turnoff for Rock Creek. When you hit the Boulder River Road go left to head back to I-15 and right to go to Deer Lodge. (it comes out in the middle of Downtown Deer Lodge. However, we are taking a right, into the trees instead of heading down Indian Creek. We are heading to Blizzard Hill. :) just follow this main road. There are some short but interesting trail heading off to the right of the main trail. Those are for another day (well...another write-up anyway).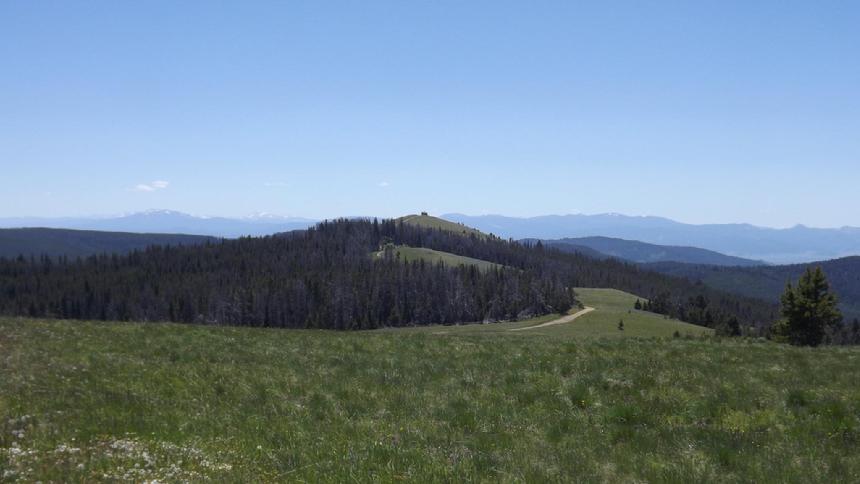 That dot over on top of that hill is the building on Blizzard Hill
Just follow this main trail until you come to a bit of a peak with an old comm shack on top. That is Blizzard Hill. It is at 7,638 feet. You will be able to see it for a while before you get there. You can just about see forever from up there. It makes a great place to stop, look and take panoramic photos.
From Blizzard Hill, follow the road as it winds down from the peak. You are now on Champion Mine Road. Stay on the main road. It will eventually bring you to the Boulder River Road right at Champion Pass. As with Indian Creek. If you go left, you head back to I-15 and should you turn right, you go to Deer Lodge.
If heading toward Deer Lodge, the road, at some point, becomes just Boulder Road. If you follow it to Deer lodge you will enter town on Milwaukee Road. This is important to know if you want to come from there instead of via I-15.
If you are heading back to I-15, the road pretty much just takes you right back past Indian Creek Road, Rock Creek Road, Whitehouse Campground and to the Bernice exit.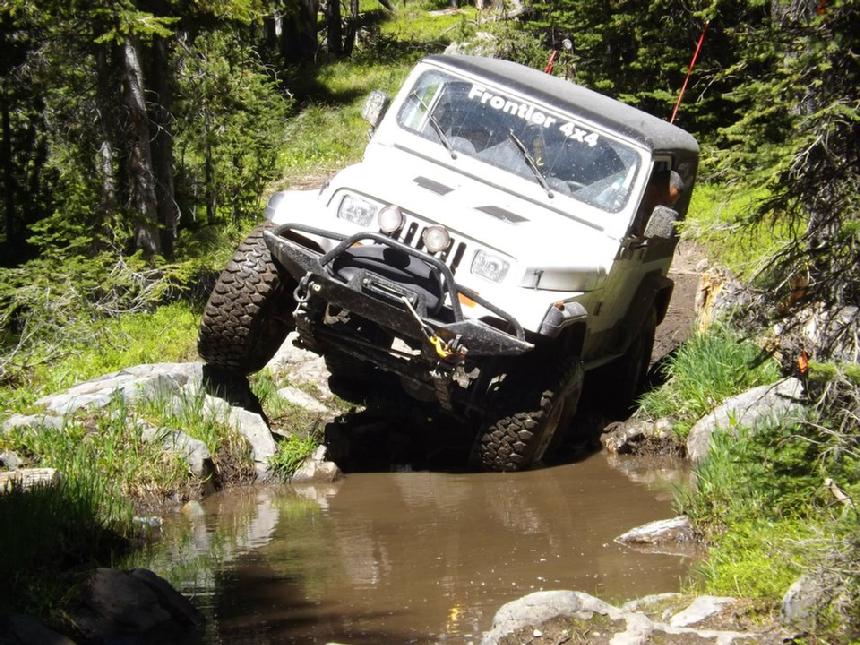 Joe having a little fun
COORDINATES:
Intersection of Boulder River Road and Rock Creek Road
46°15'27.9"N 112°30'13.3"W or 46.257735, -112.503705
Intersection of Boulder Road and FS road 5046 (goes to Blizzard Hill)
46°14'22.7"N 112°35'08.4"W or 46.239639, -112.585679
NOTE: We are simply describing a 4x4 route. We accept no responsibility for your decisions. 4x4 off-roading can be great fun but it can also be dangerous. People can get hurt and vehicles can get stuck and/or damaged. Trail conditions can, do, and will, change at any time. Road conditions may no longer be accurately reflected in this or any trail description. Only you can decide what trails or obstacles your experience and vehicle can safely navigate. When in doubt, turn around. Wheel Safe!!
Copyright Montana Overland & 4x4 Adventures 2015-2023