Skalkaho Road (Pass & Falls)
Quick Info:
Nearest Town:

Philipsberg / Hamilton

Yearly Closure:

**Weather dependant
Trail Rating:

Class

1 Suitable for car w\caution

Length:

54 Miles (Total Hwy 38 Length)
High-Clearance Required?:

NO

Wide/Long Vehicles?:

NO TRAILERS (by law)
Type:

in one side, out the other
**Usually

May or June until November(ish)

depends on weather (SEE MT DOT for details)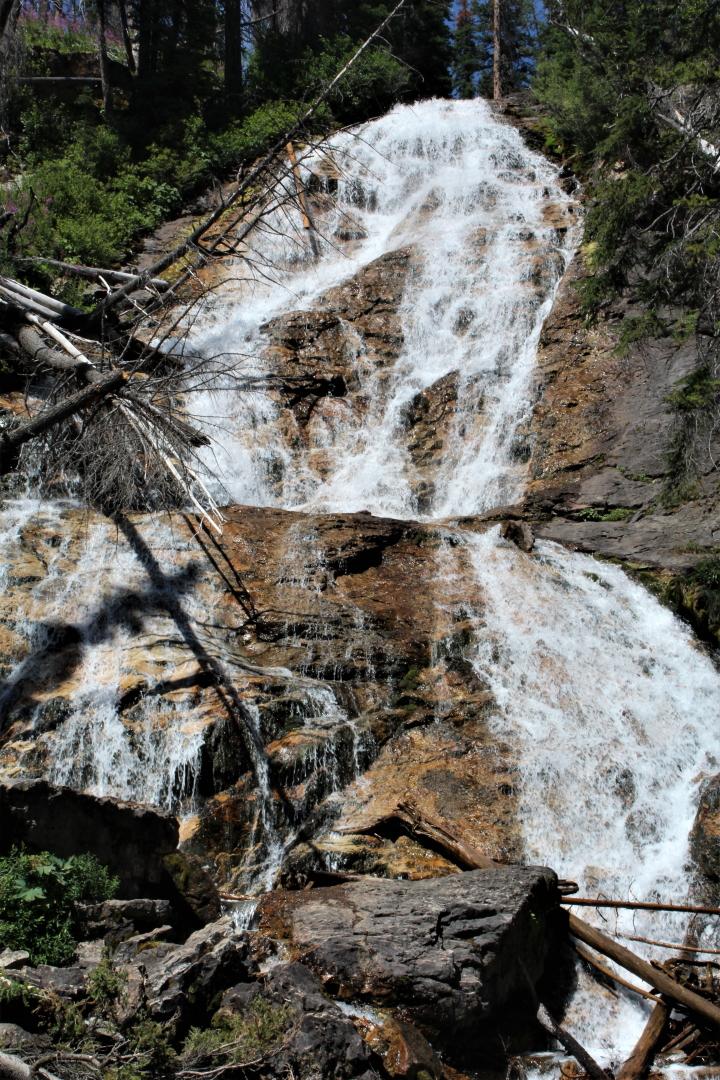 Skalkaho Falls
The Skalkaho Highway, pass, and falls are all great destinations, suitable for most 2wd cars. You do not need a jacked-up 4x4 for this one. The Skalkaho Road (Hwy 38), built in 1924, is a 53.8-mile mountain pass road. The highway takes you to the falls, which is quite literally right on the road (so no hiking is required). The road goes between, Phillipsburg on the eastern side. and Hamilton on the western side, of the Saphire Mountain Range and more or less follows the edge of the Saphire Wilderness Study Area.
NOTE: When many people hear the word "highway", they think of a multi-lane, well maintained, paved roadway. Montana Hwy 38 (aka The Skalkaho Road) IS NOT one of those. In Montana, the word "highway" simply means it is a road that is owned by Montana and maintained by the Montana Department of Transportation, and nothing more. It may be rough, rocky, muddy, full of mud puddles and impassable for much of the year, but if Montana owns it and MTDOT maintains it, it IS a Montana highway.
East Fork of Rock Creek
The very picturesque Skalkaho Falls, of Falls Creek, tumble about 150-feet down to and under the road. It then flows into Daily Creek, about 1000 ft below. The falls are about 21 miles from the Hamilton side and 33 from the Philipsburg side, so you can go in, see the falls and go back out the way you came in if that makes better sense for your trip.
It is a considerably easier trip to the falls from the Hamilton side. It is shorter, at only about 22 miles, has fewer switchbacks, and the road is wider and better than the section going over the pass from the other side. This may be the way to go to the falls for those that may be more sensitive to driving thin mountain roads.

Understand, the Skalkaho Highway is not for everyone. While the road surface is suitable for driving a standard passinger car on, Skalkaho Pass is still 7,258 feet above sea level can be pretty interesting at times. It is, in places, a dirt & gravel road with narrow sections, has drop-offs without guard rails, and blind spots where you can't see if someone is coming around the corner. This is mostly on the east side of the falls. In other words, it's a pretty normal unpaved mountain road. The road will go back and forth between being paved and unpaved several times from one side to the other. However, the unpaved sections are sometimes smoother.
Directions on this one are really easy. Get on Hwy 38 and go until you get to the falls and/or the other side. That's about it.
On the east side of the mountains, south of Phillipsburg and close to Porters Corner, is the intersection of Hwy 1 and Hwy 38. Coordinates to this intersection are: 46°14'45.8"N 113°19'57.2"W or 46.246057, -113.332561 ~ For a Google pin to this intersection CLICK HERE
Coordinates to the I93 / Hwy 38 intersection are: 46°12'24.1"N 114°09'21.0"W and 46.206688, -114.155844 ~ For a Google Maps pin to this intersection, CLICK HERE
For a Google Map pin to the falls, CLICK HERE
So there you go. It is a great trip.
Some travel tips: The views are great, but this is partly because you are so high above the valleys you are looking down at. If you have a fear of heights, I suggest driving the Skalkaho Hwy westbound from the Phillipsburg side to the Hamilton side. That way, you will get to hug the inside (mountain side) of the road instead of the "scary edge" side.
Take the road slowly. There are quite a few blind corners and you don't want to be driving like a jerk and run into someone else driving the same way. Much of this road is about 1.5 lanes wide so you need to share the road. People driving east on the road have, in places, a pretty sharp drop-off, so they will tend to be hanging out a bit more into the inside lane. Keep an eye out for them, go slow, and SHARE THE ROAD.
Much of the Skalkaho Highway is fully open to all traffic only part of each year. It often opens in June and stays open into November. Being open does not mean it is suitable for all cars, due to possible snowfall. If you are unsure if it is open or of current road conditions, PLEASE call the Montana Department of Transportation Travel Information line at 1-800-226-7623, or dial 511 on your cell phone, before making the trip. You can also visit the MTDOT website @ https://roadreport.mdt.mt.gov/travinfomobile/
NOTE: We are simply describing a 4x4 route. We accept no responsibility for your decisions. 4x4 off-roading can be great fun but it can also be dangerous. People can get hurt and vehicles can get stuck and/or damaged. Trail conditions can, do, and will, change at any time. Road conditions may no longer be accurately reflected in this or any trail description. Only you can decide what trails or obstacles your experience and vehicle can safely navigate. When in doubt, turn around. Wheel Safe!!
Copyright Montana Overland & 4x4 Adventures 2015-2023