Quick Info:
Nearest Town: 

Boulder (Elkhorn)

                     Yearly Closure?:  

None
Trail Rating: 

Class 3.0 

                                      Length:  

6.5

 Miles
High-Clearance Required: 

Yes 

                          Wide/Long Vehicles: 

OK
Trail Type: 

Same In/out

 
Skyline Mine Trail (Leslie Lake)
This is a fun little trail to a historical mine which goes back to the 1860s and some GREAT views of the Boulder valley. The old mine cabin, which sits at 8350 elevation, is known to many locals as the Skyline Supper Club. If you visit, look for and sign the visitor log inside the cabin. Leslie Lake and some good fishing is within close walking distance from the cabin. If you hike north, you will end up looking down on the Tizer Basin, the two Tizer Lakes and Glenwood Lake.
This is a Class 3.0 trail during the summer months. Class 3 says: For novice and experienced drivers alike. This is the most fun 4-wheeling you can expect to have in a stock (base-model) 4x4. Low range may be required often. Vehicle damage is possible at this level and above. Travel with care. This trail is described by some as too bumpy to travel and has a number of steep rocky sections. Airing down is a good idea. There are only a couple spots which, while being of little concern to a more experience off-roader, will cause some trepidation in inexperienced drivers. When driven with care, a stock Wrangler or Tacoma (w/o lockers) should be able to do this trail easily.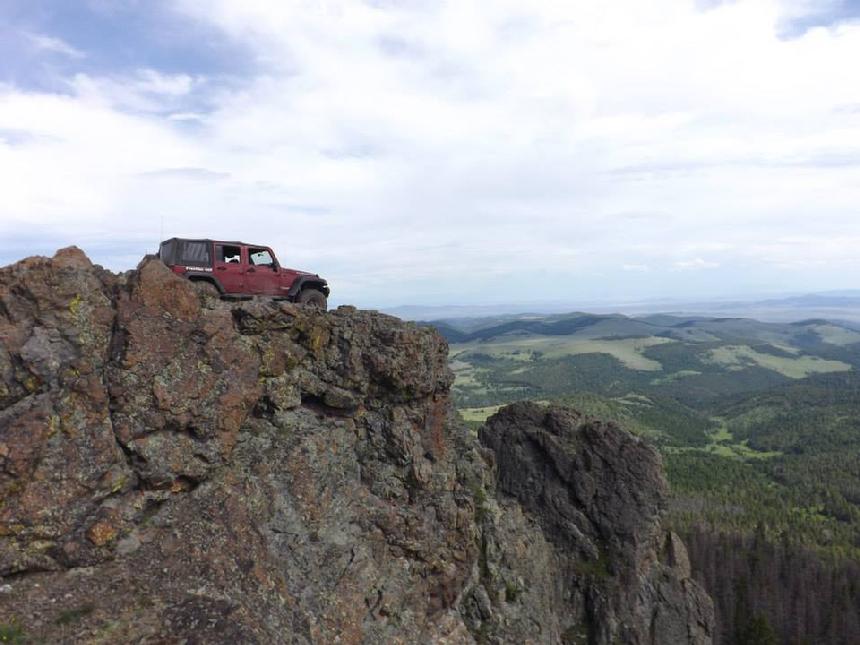 The Overlook
There are a number of ways to access this trail, including at least one which can be a bit tough for full-sized rigs, especially long full-sized rigs. Think thin. For our purposes here, I will concentrate on a central path that is good for even the longer full-sized rigs. Watch for other notes that will detail other trails which make great additions to this one. One of those I will call The New Radersburg Pass Road is a bit longer trail which attaches via the Dry Creek Road and attaches to the Tramway Road which runs between the Skyline Mine and the Elkhorn Road. Another option is the McCarthy Creek Trail from Boulder to the Elkhorn Road which can add some excitement to the trip and is a Class 3.5 trail. Of course, a visit to the quasi ghost town of Elkhorn and Montana's smallest State Park can be interesting and educational.
Lets get on our way:
From Boulder, follow HWY 69 5.75 miles to the White Bridge Road turn off and take a left. OR... From Cardwell, White Bridge Road will be a Right, approximately 26 miles north of the Caldwell Exit 256 on I-90. This is also known as the Elkhorn Turn-Off. Cross the Boulder River and take right onto Lower Valley Road. Again, you can follow the signs toward Elkhorn. One of the not so fun things about this area is many roads have two or three names. For instance, Lower Valley Road is also known as both Hubbard Lane and Elkhorn Road. Remembering this may help a little depending on what map or mapping program you use.
2 miles after you turn right onto Lower Valley Road it will fork. Stay to the left. About .75 mile further you will come to another fork with one fork making a sharp curve to the left. This is Eklhorn Road and where you want to go. Again, there is a sign there pointing the way toward Elkhorn. Go north toward Elkhorn for another 6.4 miles and Queen Gulch Road will be to the right (east) into Queen Gulch. For a Google Pin:

**CLICK HERE**
There is a nice wide spot right next to the road which makes a good air up/down point though. The small meadow at this turn and what looks to be a nice camping spot are private property. the road we want it to the left side and starts bearing north quickly after leaving the Elkhorn Road.
At the next fork, bear left. Then stay on this road. This is Queen Gulch Road / FS Trail 8578. It is approximately 5 miles to the overlook. This is a beautiful spot and on a clear day you can see the to Cardwell, past Three Forks, to the wall of the Gallatin Range outside Belgrade. you can also see Canyon Ferry lake up toward Townsend and the Mountains toward White Sulfur Springs. if it does not show, I am fond of this spot.
Mine coordinates:
46°17'25.6"N 111°53'24.0"W OR
46.290444, -111.890000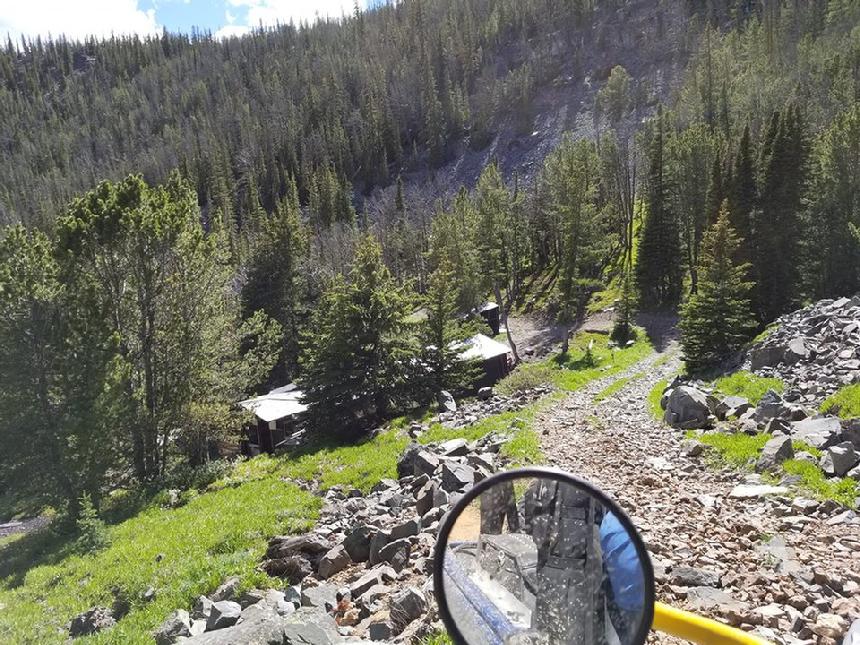 The cabin at the mine
NOTE: We are simply describing a 4x4 route. We accept no responsibility for your decisions. 4x4 off-roading can be great fun but it can also be dangerous. People can get hurt and vehicles can get stuck and/or damaged. Trail conditions can, do, and will, change at any time. Road conditions may no longer be accurately reflected in this or any trail description. Only you can decide what trails or obstacles your experience and vehicle can safely navigate. When in doubt, turn around. Wheel Safe!!
Copyright Montana Overland & 4x4 Adventures 2015-2023