Quick Info:
Nearest Town: 

Jefferson City 

               Yearly Closure?:

 None
Trail Rating: 

Class 

2.5

                           Length:  

8 Miles to 4-Corners / Loop 8.5 Miles
High-Clearance Required: 

Yes

             Wide/Long Vehicles: 

OK
Trail Type

: 

Semi-loop (there is a loop but you enter exit from the same road)
The Tizer Basin is a beautiful and popular destination in the Elkhorn Mountains and part of the Elkhorn Wildlife Management Unit. It's close proximity to Helena, Montana's capital city makes it is a great trail for those who enjoy the beauty of our great back yard and do not desire an extreme trail experience or want get too far from civilization. It is just a nice off-road experience...a very bumpy one, but nice. If you are not familiar with airing down to smooth out the road, it might be good to familiarize yourself before this trip.
The trail from the pavement to a mid-point intersection, we call 4-corners, is a Class 2 trail. It is BUMPY but can be done in 2 wheel drive in the summer months. It is not uncommon to see lower clearance 4x4s like the Subaru on this part of the trail. The turn to the Tizer Lakes has some interesting mud holes (all rock bottomed) and some higher clearance 4H spots. If you have the gear to air back up, I suggest airing down for this trail.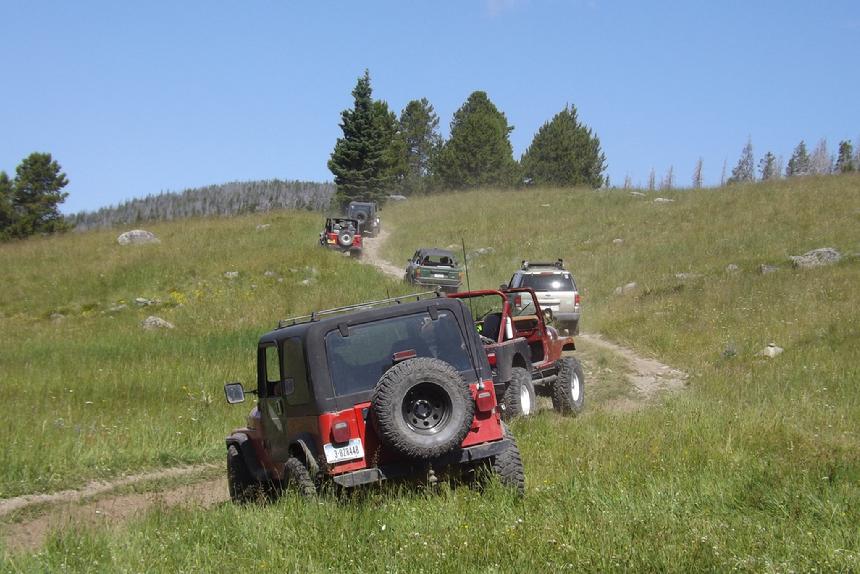 Leaving 4-Corners heading toward Wilson Creek
Getting to 4 Corners: (on Trail # 164)
The Tizer Road starts just outside of Jefferson City. From I-15 take the Jefferson City exit #176. Turn east (away from Jefferson City) as you come off the Interstate. At the next stop sign, take a right onto HWY 282 (the frontage road) heading south. The road will curve to the east and pavement will end quickly. You are now on the Tizer Road. Note, in summer months the lower section of the Tizer Road can see heavy vehicle traffic so drive with care. About 3 miles from where the pavement ends, there is a parking area which is suitable for parking trailers and airing up/down. From there, just follow the main road. The 4 Corners intersection is right at 8 miles from where the pavement ended. You can't really miss it.
Coordinates to 4-Corners: 46°20'34.5"N 111°53'31.3"W - 46.342916, -111.892014
For a Google Maps Pin Link: **CLICK HERE**
The Tizer Basin Loop: (Trail #4032)
(Note: the "Tizer Bains Loop" is also known as the "Bullock Hill Loop" and may appear on some maps under either name) From the 4 Corners intersetion, just pick a direction. It is a loop after all. Either direction works equally well. Note: There are several private cabins in the area so keep that in mind. They are gated so there should be no mistakes. There are some muddy areas, a few steep hills and a few big rocks on the loop. In other words, great fun.
Both the trail to the Tizer Lakes and the Tizer Basin Loop are full-size friendly and the mud holes, in the trail, all have rock bottoms. So no fear of sinking. The mud on the loop can get deep, in wetter months. Please stay the trail. This area is fragile and tracks through the mud in the meadows will be there for a long time.
There are some mines to explore, some old vehicles to discover and you can take a small detour to the Tizer Ranger's Cabin. Late in the summer and fall there are some nice Brookies in Wilson Creek.
By Richard Hiltz
A little mining history to explore.
NOTE: We are simply describing a 4x4 route. We accept no responsibility for your decisions. 4x4 off-roading can be great fun but it can also be dangerous. People can get hurt and vehicles can get stuck and/or damaged. Trail conditions can, do, and will, change at any time. Road conditions may no longer be accurately reflected in this or any trail description. Only you can decide what trails or obstacles your experience and vehicle can safely navigate. When in doubt, turn around. Wheel Safe!!
Copyright Montana Overland & 4x4 Adventures 2015-2023