Connects to: Hay Canyon Trail
Quick Info: 
Nearest Town: 

Whitehall   

               Yearly Closure:  **300 ft** 

Dec. 2 to 

May 15 
Trail Rating: 

Class

 

3 

                        Length:  

13 miles from hwy 2 to Hay Canyon Trail intersection  
                                                                           

additional 7 miles to Whitetail Road

  on Hay Canyon Trail
High-Clearance?: 

Yes

                       Wide/Long Vehicles:

 Use Caution
Trail Type: 

Loop


 **There are several maps that show different seasonal closure dates for one 300ft section of this trail. 
The dates show have been confirmed as correct with the Trail Coordinator (Brad) in the Butte BLM 
Office. This closure is 300 ft between the crossing of Little Whitetail Creek (Sheep Camp Road, 300 feet 
north to the Forest Service boundry where it becomes FSR 8600. The remander of the route discribed
here, is open year round on both sides of the 300ft closed BLM section. 
The Beaverslide Trail is a short trail that intersects with the Hay Canyon Trail

(See Hay Canyon Trail description)

about 9 miles from the parking area at the trailhead at the Whitetail Road. It features some great scenery, a couple so rather steep, rocky hills and some twists and turns in the trees.
Of course, you can travel this trail either direction but, for our purposes here, I am going to start from the Whitehall side.
We start at the intersection of Sheep Camp Road and Hwy 2. The intersection is about 3.6 miles west of Whitehall, or, if coming from the west it is also 3.6 miles from the Pipestone exit to the intersection with Sheep Camp Road.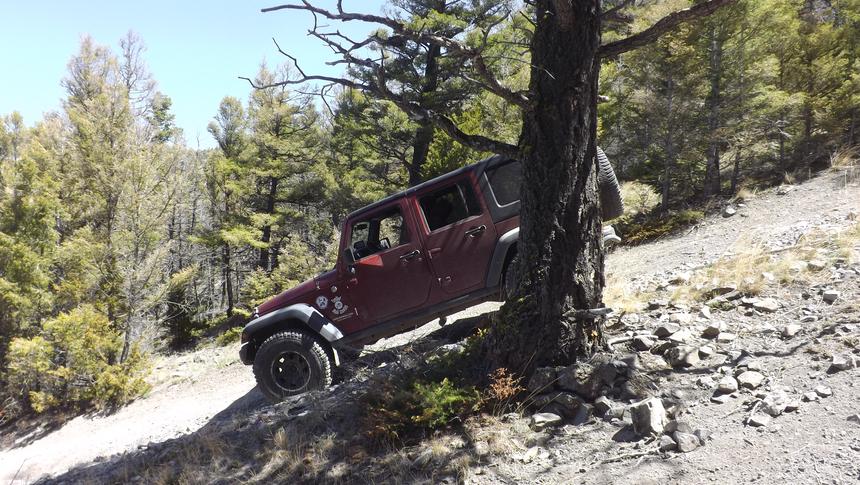 This is not the steep spot.
From Whitehall, head west on Hwy 2 to the Sheep Camp intersection. From the Pipestone exit, take Pipestone Road heading east to Hwy 2. Turn left (toward Whitehall) and the intersection with Sheep Camp Road is less than 1/2 miles more.
The coordinates to this intersection are: 45°52'57.8"N 112°10'42.0"W or 45.882712, -112.178328. For a Google Maps pin

(**CLICK HERE**)
What a great view.
Head north on Sheep Camp Road. An intersection at about 1.9 miles from the HWY 2 intersection, just after a left curve, we want to go right. Both direction are Sheep Camp Road so watch for the turn. From that turn, just follow the main trail. At a bit over the 4 mile mark, you will come to Little Whitetail Creek. but we are not crossing the creek here. It is a nice spot to stop for a small rest and to run the dogs and kids. But our trail bares to the left running parallel to the creek in a northwesterly direction. Go another mile to cross the creek.
Crossing Little Whitetail Creek
Just stay on Forest trail NF-8600 until you come to a clear intersection at the Hay Canyon Trail (Little Whitetail Road). From her, you can go right to go to the Whitetail Road (that runs between Boulder and Whitehall) or you can go right to head towards the Pipestone OHV area and eventually the 4 Corners Parking area there. Ringing Rocks is also that direction.
The intersection of Beaverslide Trail with the Hay Canyon Trail
Coordinates to this intersection are: 46°01'37.5"N 112°11'50.5"W
46.027078, -112.197346 or for a Goole Maps pin to this spot:

(**CLICK HERE**)
Heading into the twists and trees.
Closure on Beaverslide Trail
NOTE: We are simply describing a 4x4 route. We accept no responsibility for your decisions. 4x4 off-roading can be great fun but it can also be dangerous. People can get hurt and vehicles can get stuck and/or damaged. Trail conditions can, do, and will, change at any time. Road conditions may no longer be accurately reflected in this or any trail description. Only you can decide what trails or obstacles your experience and vehicle can safely navigate. When in doubt, turn around. Wheel Safe!!
Copyright Montana Overland & 4x4 Adventures 2015-2023